PHOTOS FROM OUR FISHERMEN
Those folks in the photos are tourists, just like you. Live your dreams.
Click on the photos for a larger image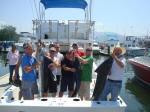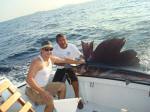 Clyde Hoy from Long Beach, California and his group took two boats out and came back with a boatload of sailfish and bonito. "The boats and crews were everything we hoped for! The Sailfish were an unexpected surprise... The first one being hooked and landed by 8:28 AM... within 20 minutes of beginning to troll! Our boat was hot all morning long with frequent stops for nice sized Bonito... 20 fish in all for the 6 of us on the 40 footer. The 37-footer trolled for close to two hours without a single stop... then THREE Sailfish hit simultaneously... five novice anglers were suddenly scrambling to pick-up rods, get into fighting chairs and begin to do battle... all while the Sails were flying everywhere across the stern. It all had to have been some kind of sight!! All three Sails were landed... and eventually another 7 Bonito for the 37 foot boat's group. Memories for a lifetime for all on board... and hoping to repeat them some day!"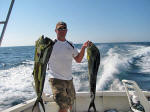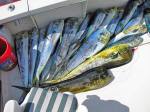 Lee Mandernach from Sac City, Iowa hooked a whopping 22 mahi mahi and landed 19 of them at Corbetena. "Captain Lalo and Vincente knew where the fish were that day! Non-stop action for 3 hours! We switched over to marlin later in the trip due to the full moon the night before. Lalo spotted 4 blue marlin, I saw 2 but were unsuccessful in getting them to hit! That's the way fishing goes! Very impressed with their hard work and would not hesitate to book this charter again when I come back!"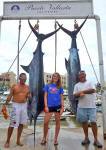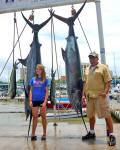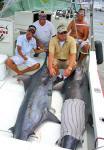 Randall Johnston and family from Evanston, Wyoming hit the jackpot a few miles off of Punta Mita with not one, but TWO giant black marlins on their 8 hour trip.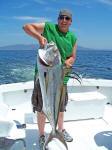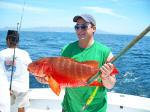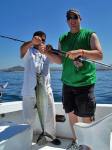 The Phillips Family from Goddard, Kansas landed these nice big'uns and more at the Marietas Islands. "We had an AMAZING time, thank you!"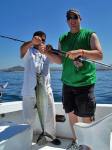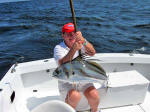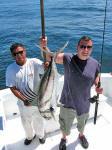 Rob McGee and Family from Valdosta, Georgia hit the roosterfish jackpot at Corbetena. Look at the size of these roosters! "We had a great time!"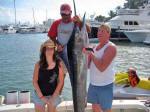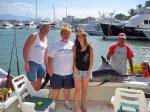 18-year-old Lisa Evertsen from Monee, Illinois brought in this bad boy at El Morro. Sharing in her thrilling experience were Steve Landin and her mom, Debbie, who says: "My 18 year old daughter caught this striped marlin. It was her first trip to Puerto Vallarta and her first fishing trip. Hugo and Pepe were the best captain and assistant, and absolutely great in helping her reel it in. It was the best day of our lives!! Everything was handled beautifully!"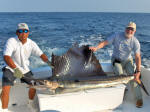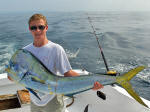 John and Colin Wick from Sammamish, WA display their great catches at Corbetena. These were just two of the fish they caught that day. "Thank you for a wonderful fishing trip and great memories! The two Juans and Michael were excellent crew and guides! We caught some great fish, especially the sail fish and the huge dorado! It is too bad we have no place in our house to display such beautiful fish!"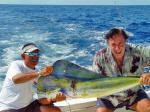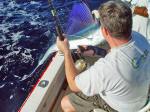 Neal Henslee of Houston, TX reels in one of his two 125 lb. Sailfish caught at Corbetena. Neal also landed two 40-50 lb. Mahi Mahi that afternoon!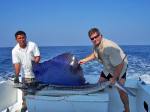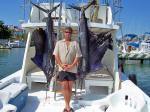 Grims Gislason of Seattle, WA shows off his two 8-foot sailfish, brought in at the Marietas Islands. Nice catch, Grims!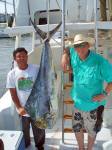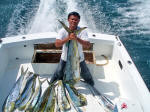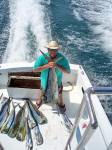 Will Owens of Cypress, TX found himself immersed in Mahi Mahi during his trip to Corbetena. "We had a wonderful time fishing with your guys, and definitely plan to do it again!"