MORE PHOTOS - PAGE 2
Those folks in the photos are tourists, just like you. Live your dreams.
Click on the photos for a larger image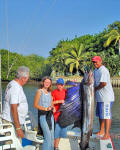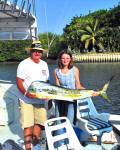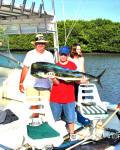 Thomas Riley and Family landed 6 Dorado (one over 60 lbs!) and this 120 lb. Sailfish at Corbetena.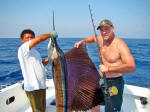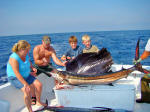 Rod Henry of Canby, Oregon (Left), and Kelli Hansen of Troutdale, Oregon with her two young helpers, Jared and Joe (Right), reeled in these two nice sailfish, while Jay McMillan of Milwaukie, Oregon landed sailfish #3 at El Morro. Three Dorado were also caught on this great trip!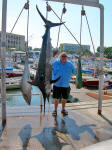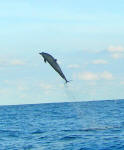 Another great day on the water in Puerto Vallarta! Mike Cuthbert from Florida landed a 10-foot Black Marlin, a 5-foot Yellowfin Tuna, and a 20-lb. Mahi Mahi at Corbetena, plus took this great shot of a dolphin jumping WAY up there beside the boat.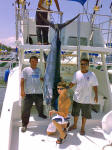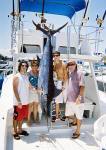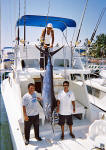 The De La Torre Family from Miami, Florida landed this monster Marlin at Corbetena.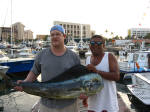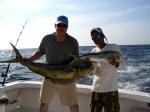 Glen Nichols from Fort MacMurray, Alberta shows off his nice
55 lb. Mahi Mahi caught at Corbetena.